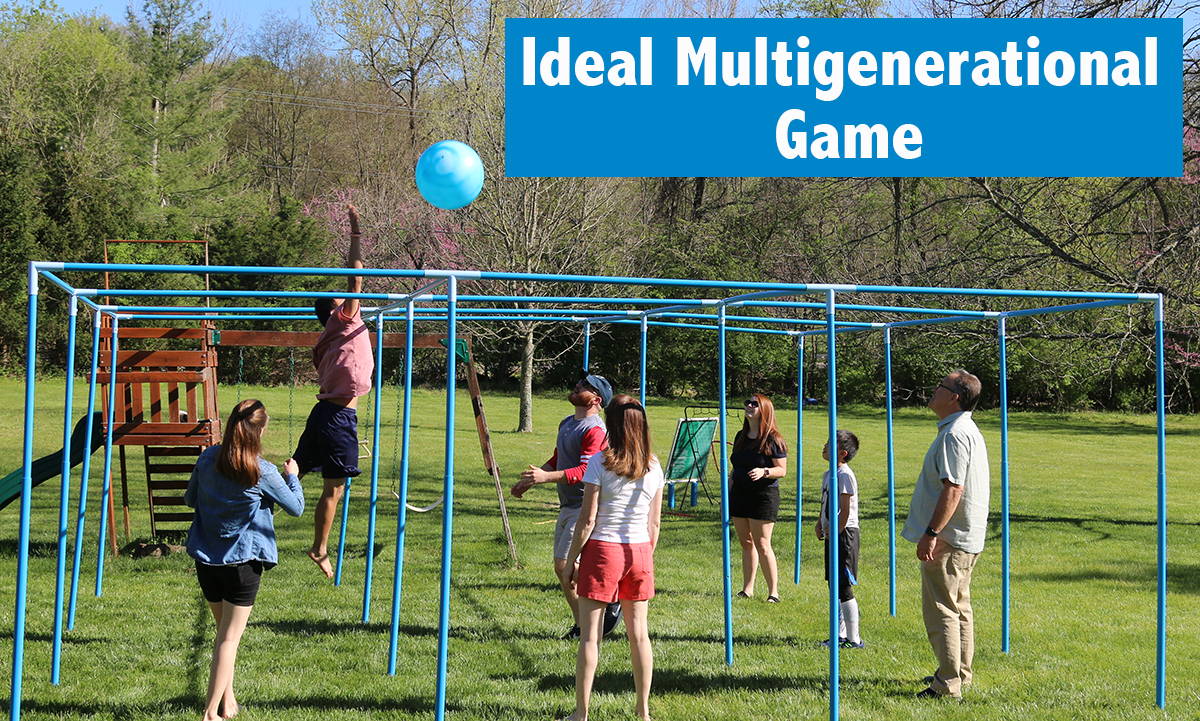 9 Square in the Air is the Ideal Multigenerational Game
When you're planning an event that includes a variety of ages, you may get stumped: how do you make sure everyone is having a great time without interrupting the multigenerational vibe? Your answer, of course, is 9 Square in the Air!
You're trying to coordinate an action-filled event that entire families will enjoy. From preschoolers to teens, their parents and even their parents, you want to make sure that what you're creating is a way to connect and enjoy the day together.
For instance, your first instinct could be to have stations with sidewalk chalk and bubbles for the youngest, an entertainer for the kids and lawn games for teens. It's not a bad idea, but it misses the purpose of your gathering: connection.
9 Square in the Air is the ideal game for when you want to bring all ages together for a lighthearted contest. It's easy to learn, it requires no special athletic abilities and kids and adults of every age play together. It is not intimidating for those that have never played, even if you're joining a few big, athletic teenagers. Better yet, you're never bored waiting your turn because you're still engaged with what's happening in the game and making connections with those in play.
When wet or wintry weather threatens your outdoor multigenerational event, you won't have to scramble. 9 Square in the Air is just as entertaining whether it's indoors or out, and it sets up easily in minutes. 9 Square in the Air gives you ultimate flexibility, fitting your indoor or outdoor plans, and is easily transportable if you find that a sudden downpour changes your plans mid-event.
9 Square in the Air is the ideal game for your multigenerational event because it gets everyone involved in a low-pressure activity filled with laughter and playful enthusiasm.
No matter what kind of engaging, multigenerational event you're considering, 9 Square in the Air is going to bump up the fun factor. It not only works with a wide variety of settings, but it also fosters connection and community in a way a lot of other games never could. Contact us and let's talk about how 9 Square in the Air fits with your plans.