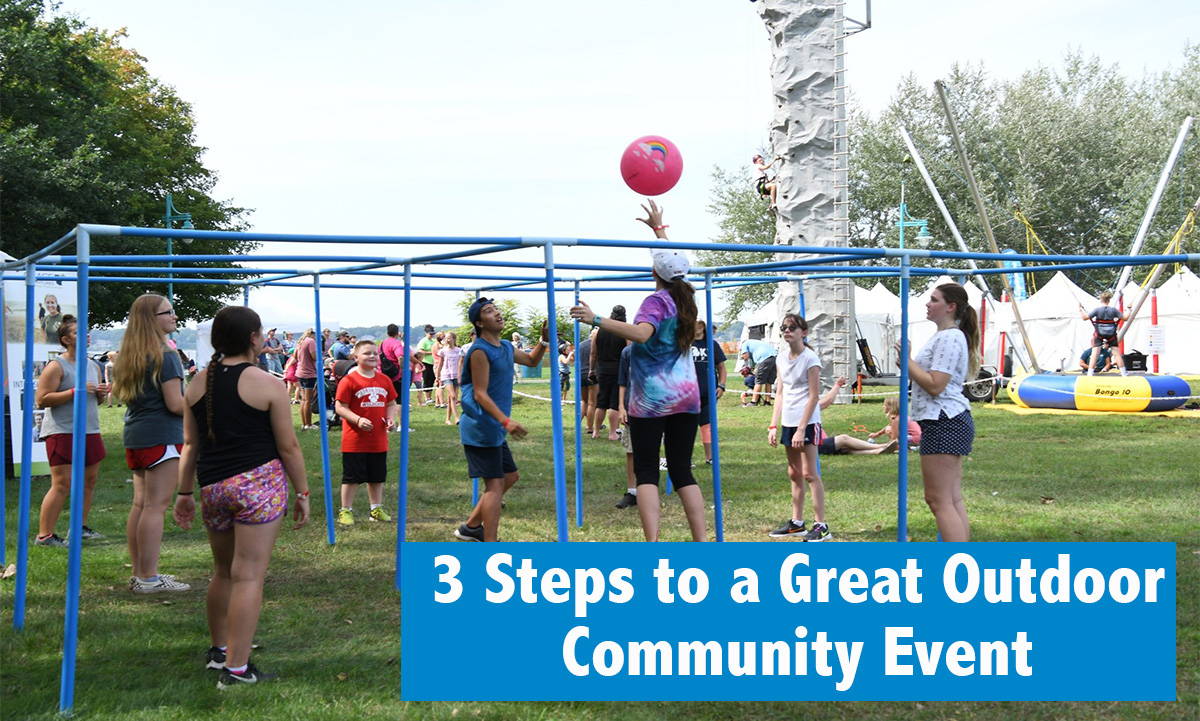 4 Steps to a Great Outdoor Community Event
You're picturing a full day of outdoor fun, complete with large group games, plenty of cotton candy and a lot of great new connections made between your guests. You've decided to hold an outdoor community event. How can you make it fun and memorable and use it as a springboard for a tighter, thriving community?
Here are four steps to building a community event that brings people together:
Think About the Goal of Your Event
Many community events miss the purpose of holding one. The community is invited, but at no point in the day is there any opportunity to bring people together. If you are planning an event, for instance, that includes concessions, an entertainer and a craft for the kids, you have created fun for individuals and families, but it lacks a cohesive moment that cultivates community.
Before you begin planning, create a goal or two around your event. It might be something as simple as, "Cultivate community identity," or "Help families connect with one another."
As you get closer to your event date, you'll keep this thought at the center of your planning. It will likely affect how you group the tables for picnickers or how the audience is positioned to watch the entertainer.
Create a Point of Connection:
You may be planning some large group games, such as a potato sack race or a tug-of-war competition. Maybe your group loves a good water balloon toss or a pie-eating contest. These are all fun options, but the best games for a community event purposely offer opportunities for people to talk, connect and have fun with one another as they play the game.
The best large group games for a community event will be entirely interactive, putting people in close proximity to one another while they laugh and have fun together. The game may have some moments where people are waiting a turn, but they are still engaged with what is happening in the game. 9 Square in the Air provides the perfect opportunity for people to connect while having fun.
When wet or wintry weather threatens your outdoor multigenerational event, you won't have to scramble. 9 Square in the Air is just as entertaining whether it's indoors or out, and it sets up easily in minutes. 9 Square in the Air gives you ultimate flexibility, fitting your indoor or outdoor plans, and is easily transportable if you find that a sudden downpour changes your plans mid-event.
9 Square in the Air is the ideal game for your multigenerational event because it gets everyone involved in a low-pressure activity filled with laughter and playful enthusiasm.
No matter what kind of engaging, multigenerational event you're considering, 9 Square in the Air is going to bump up the fun factor. It not only works with a wide variety of settings, but it also fosters connection and community in a way a lot of other games never could. Contact us and let's talk about how 9 Square in the Air fits with your plans.
While attending a community event is good fun for everyone, it may be only the first step in fostering connections in your area. Consider using your event as a lead-in to other groups in the community. New moms could sign up for a baby-and-me music class or seniors could be provided with information about a group that does weekly outings together.
If your goal for your community event is to foster connections, be sure to equip the community with that next step for making new friends.
When planning your next event, don't forget the best option available for large group games. 9 Square in the Air is uniquely designed to foster fun and connection all at once. You'll be surprised at how easily your community bonds as they play 9 Square in the Air. Contact us to learn more.