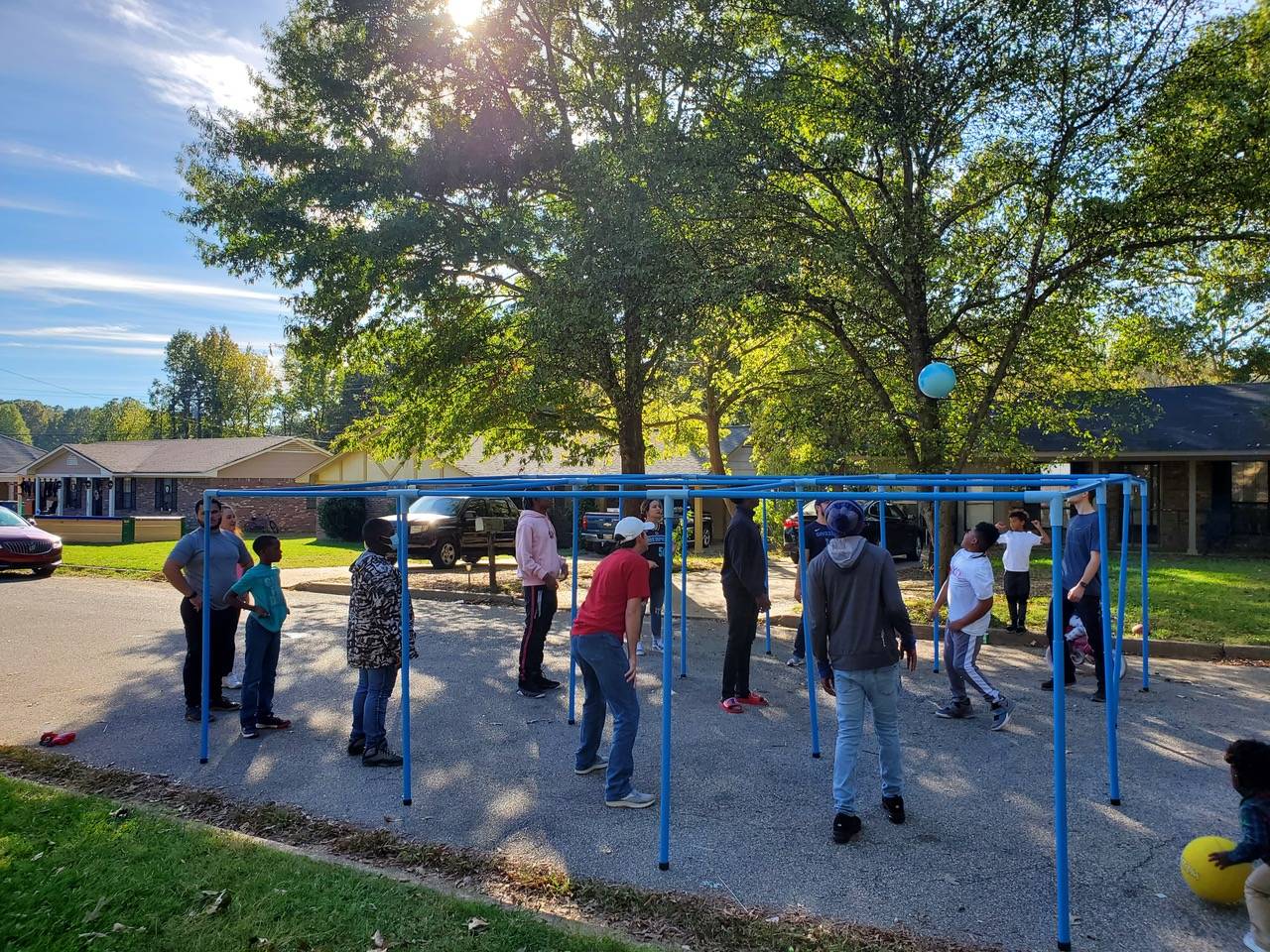 Celebrate Good Neighbor Day With 9 Square in the Air
In a culture where youthfulness is celebrated and even idolized, it can be easy to forget the benefits that come with age. Wisdom, experience and availability are just some of the priceless qualities of older generations that shine in an intergenerational community. How do you build one? You can begin with group games. Have you dreamed of being the neighbor that brings the whole block together? You may have modeled yourself after a famous television neighbor, such as Wilson, the neighbor full of wise advice from behind the privacy fence on Home Improvement. Or maybe you want to be funny, like Steve Urkel on Family Matters.
Wisdom and comedy are fantastic for television, but when you want to bring a neighborhood together in real life, you need friendship and connection.
That's why 9 Square in the Air is celebrating Good Neighbor Day on September 28 (or any day). Good neighbors are the heart of a solid community, where they watch out for one another, provide an egg to complete a recipe or loan a tool to finish an outdoor project. Sometimes they watch one another's children or even their pets, and offer a warm "welcome home" after a trip.
What if your neighborhood is a little less connected? In honor of Good Neighbor Day, here are some easy, introductory ideas for fostering new bonds among your neighbors:
If you have a garden, consider giving your neighbors some of your harvested fruits and veggies. If you have flowers, give out mini-bouquets of your blooms.
Write each of your neighbors a note, offering a kind word and your phone number in case of an emergency.
If your front porch doesn't have seating, consider placing a bench or chair there. Spend time on your porch and make an effort to say hello or wave when you see a neighbor outside or driving past your house.


Ready to take the next step? There are ways to turn neighbors into friends with 9 Square in the Air:
Host a coffee-and-donut social hour in your front yard on a Saturday morning. Encourage families to bring their kids, and set up 9 Square in the Air for all ages to play together.
Organize a cookout potluck, inviting a few of the families to bring their charcoal grills. Then ask everyone to contribute some burgers and sides and set up yard games like cornhole and washers, along with 9 Square in the Air.
Evenings in September tend to get cool, so ask your neighbors to join you for a bonfire and s'mores in your yard. Set up 9 Square in the Air (there's even a glow-in-the-dark Neon Deluxe Game!) and watch your neighbors become friends, right before your eyes.


You might wonder why 9 Square in the Air is so perfect for bonding neighbors. It all comes down to connection. It's a game that all ages and ability levels can play, it's easy to learn and there are no teams or losses. It's just good fun, which makes it easy for your neighbors to laugh and talk as they play. Ready to order a set for your neighborhood? Contact us at 9 Square in the Air to get started!