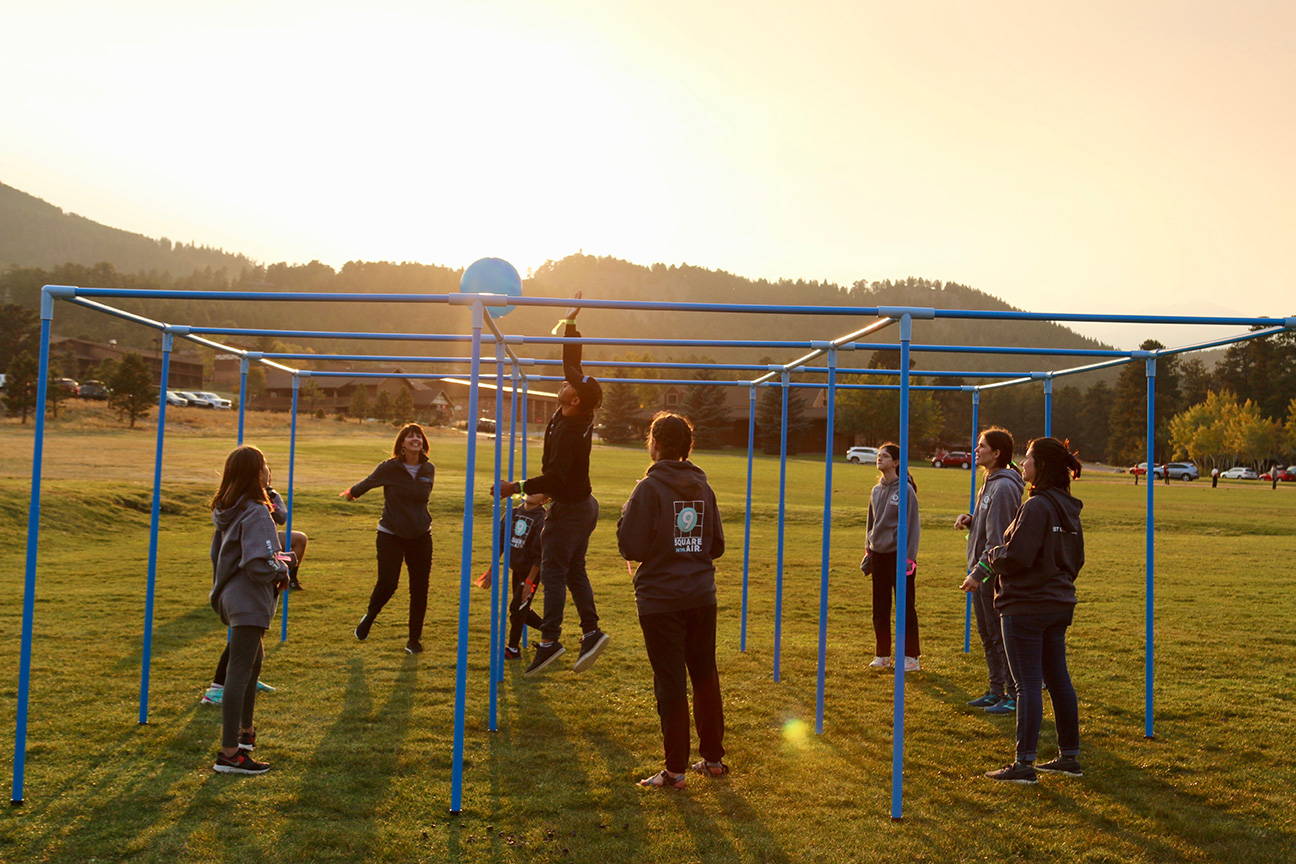 9 Square in the Air is the Best Outdoor Game!
Warmer weather is on the way! As spring and summer approach, we'll soon be back to wearing shorts and going outside without any jackets. And one of the best things about warmer weather is not just the opportunity for a walk in the park or dinner on the patio, but the chance to play games outdoors again. The run-of-the-mill games, like frisbee, volleyball, soccer, and others are fun, but they've been played thousands and times and can start to feel repetitive eventually. Instead, why don't you change it up and try a new game that is ideal for warm weather: 9 Square in the Air. In this blog, we're going to talk about why 9 Square in the Air is the ideal outdoor game and the places and situations in which you can you use it.
Are you and your group always going to the beach, but you don't always have a fun, outdoor game to play? 9 Square in the Air might be just what you need. Although 9 Square in the Air can be played in a wide variety of places, including indoor and outdoor locations, a surprising yet fun place is the beach. Every time we have set up 9 Square in the Air on the beach, people stop by and ask to play. In no time at all, you'll have your entire group engaged, plus a growing crowd of onlookers taking pictures of this fun new game!
Another great choice for playing 9 Square in the Air is on a camping trip or a camping retreat. Camping can be a lot of fun and an experience to remember. It's important to have some personal time with family and friends, but also keep in mind that kids and teenagers need plenty of outdoor activities to stay entertained. In between cooking s'mores around the fire and swimming in the lake, you can set up 9 Square in the Air (it only takes 3-5 minutes to set up!). Just find a wide-open space around the camp ground (large, grassy fields are ideal) and bust out 9 Square. (As a side note, make sure you are respectful of camp rules and don't get in the way of other campers)
Have you ever been to a park with a group and found yourself wishing you had something fun to do that everyone could participate in? Parks provide a scenic and relaxing experience that will help you enjoy nature, but aside from a few benches and dirt trails, parks offer little in the way of immediate entertainment, particularly for teenagers. Have no fear! 9 Square in the Air is here with an idea that will keep your get together at the park going all day long. Parks are great place for 9 Square because they offer so many open grassy fields that are free to the public to use, and with 9 Square being remarkably portable and easy to set up, you can be playing 9 Square in no time!
One of the best parts about the summer is that you get to spend more time with family at home. The kids are free (or freer, we might say) to lounge around in their pajamas all day, eat popsicles on the porch, and play video games. But kids also have a lot of energy! They probably want to run around and play outside with other kids from the neighborhood. In comes 9 Square! Your kids will enjoy bringing the whole neighborhood together for a fun game that can last all day through the summer. Perfect for inviting a group of friends over to your house, a block or cul-de-sac party, or any other group that you hope to bring together.
In this blog, we gave you just a few examples of how 9 Square in the Air can used in outdoor settings, when the weather is nice. But 9 Square doesn't only need to be outdoors. You can play it in big, open indoor areas, too, like gymnasiums at churches or schools. But an outdoor setting, especially one set against the backdrop of nature, in the temperate days of spring and summer, feels like the most refreshing place to try 9 Square. Enjoy the outdoors, get some exercise, and get your game on with 9 Square in the Air.