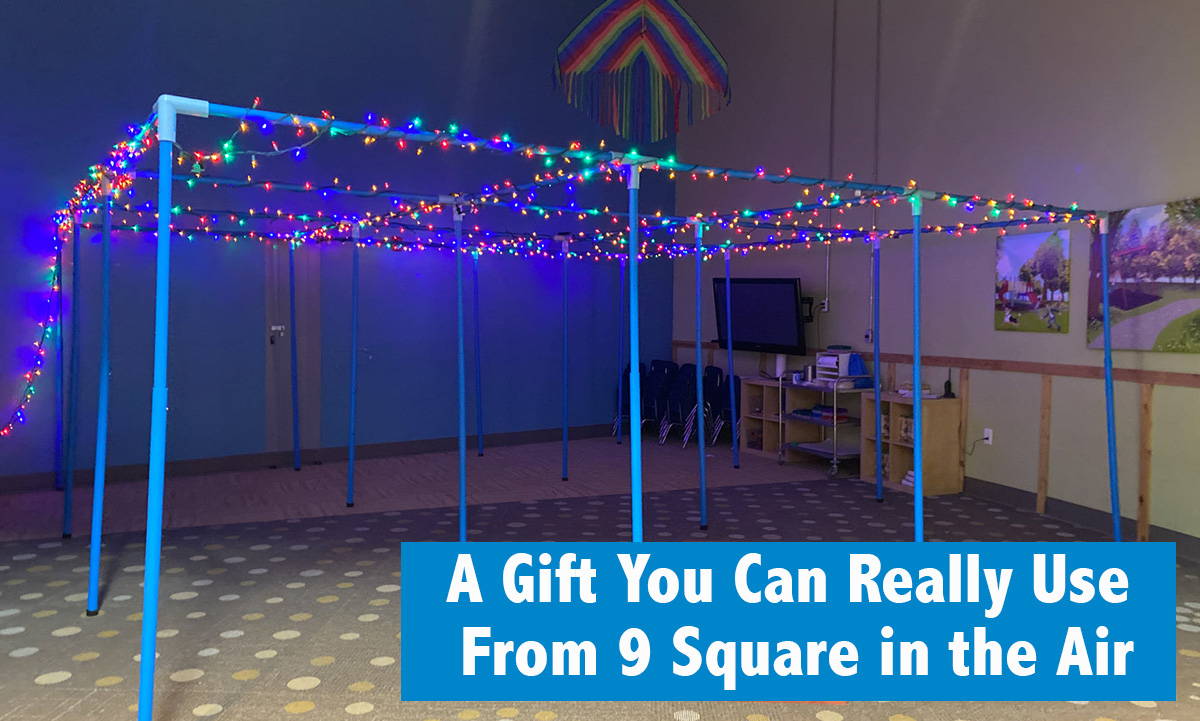 A Gift You Can Really Use From 9 Square in the Air
If you've seen a lot of white elephant exchanges go south…if you've had your carefully-planned, holiday-themed youth games met with eye rolls…if the thought of planning one more youth Christmas party has you wanting to speed ahead to January, then 9 Square in the Air has a Christmas gift you can really use. It may turn out to be your favorite gift this year.
It's your own party plan all in one place. A perfectly coordinated youth Christmas party plan, complete with game and snack ideas, brought to you by a team that's seen their own fair share of holiday-themed youth boredom and knows the perfect remedy.
Begin Your Bash with Snack Set-up:
If you get the food just right for your bash, you'll be on your way to success. Here are a few ideas:
Red and Green Candy Overload: Set up a Christmas sweet station with red and green Pop Rocks, candy canes, Twizzlers, Little Debbie Christmas tree snack cakes, red and green M&Ms and more.
Make-and-Eat Gingerbread Houses: Provide graham crackers, icing and various small candies, letting youth see if they can finish their houses before they start eating them. For extra fun, make this a game, having teams race to build houses and then compete for best design.
Cocoa with a Twist: Hot chocolate stations have become a staple for holiday parties but get conversations going with some delicious toppings: crushed KitKat or Heath bars, mini M&Ms and Oreos for dunking.
Mix Up Your Exchange With 9 Square in the Air:
Instead of your tired old white elephant gift exchange, mix it up with 9 Square in the Air. Play the game as usual, but every time a person gets out, they have a choice to either choose a gift, rob someone else's gift or bump someone else from the game. Have your youth wait to open gifts until everyone has had an opportunity to choose or steal a gift. You may have to set a timer; your youth may prefer to keep playing the game rather than open their gifts!
Another option is to make your holiday gathering a glow party with 9 Square in the Air's NEON Deluxe Game Set. With your entire party happening in the dark, your bash will stand out from every other event your youth attend this season.
For every kid that can't wait to party, you may have one or two that can't wait to connect. 9 Square in the Air is a game created for connection, so the perfect pairing with that game is a cozy corner where youth can continue their conversations with a plate of cookies and a cup of cocoa or holiday-sweetened coffee. Set up a corner of the party or a separate room with oversized pillows, soft music and a few youth leaders ready to facilitate connection with some great conversation starters.
Finish With a Snowball Fight for Indoor Weather:
Raid your church's recycling bin and divide your youth into two teams. Give them a time limit and see who can make the most snowballs before the buzzer sounds and the snowball fight begins. For added fun, have some of your youth hold buckets and see how many snowballs they can catch in their buckets from what the other team hurls at them. The first team to catch ten snowballs wins.
Ready to execute your Christmas party plan? Your first step is contacting us at 9 Square in the Air. We can't wait to hear about your youth group and how we can help you create memories and connection with your youth group during the holidays and all year long. Merry Christmas from 9 Square in the Air!